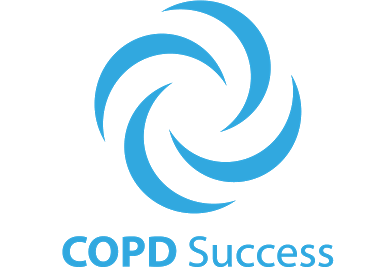 YOUR USE OF THE COPD SUCCESS SITE IS AT YOUR OWN RISK. THE CONTENT IS PROVIDED WITHOUT WARRANTIES OF ANY KIND, EITHER EXPRESSED OR IMPLIED. KELWEL PRODUCTIONS INC. DISCLAIMS ALL WARRANTIES, INCLUDING, BUT NOT LIMITED TO, ANY IMPLIED WARRANTIES OF IMPROVEMENT OR CAPACITY. KEL WEL PROCUCTIONS INC. DOES NOT PROMISE OR GUARANTEE ANY RESULT FROM YOUR USE OF THE INFORMATION CONTAINED HEREIN. KEL WEL PRODUCTIONS INC. ASSUMES NO LIABILITY OR RESPONSIBILITY FOR OUTCOMES DUE TO THE INFORMATION CONTAINED HEREIN. WE DO NOT WARRANT OR MAKE ANY REPRESENTATIONS REGARDING THE USE OR THE RESULTS OF THE USE OF THE SITE.
NONE OF KELWEL PROCUCTIONS INC'S OWNERS, OFFICERS, DIRECTORS, EMPLOYEES, SUBSIDIARIES, AFFILIATES, SERVICE PROVIDERS, OR CONTENT PROVIDERS, ARE MEDICAL DOCTORS, UNLESS STATED. NOR ARE THEY PROVIDING ANY SUCH SERVICES. NOTHING DISSEMINATED BY KEL WEL PRODUCTIONS INC. IS INTENDED AS A WRITTEN DOCTOR'S ORDER FOR EXERCISE OR FOR PULMONARY REHABILITATION.
THE INFORMATION AND STRATEGIES PROVIDED ON THIS SITE ARE NEITHER COMPREHENSIVE NOR APPROPRIATE FOR EVERY INDIVIDUAL. AS EACH INDIVIDUAL'S SITUATION IS UNIQUE, QUALIFIED PROFESSIONALS SHOULD BE CONSULTED BEFORE STARTING AN EXERCISE PROGAM.
COPD SUCCESS AND THE BREATHING SPECIALIST EXISTS FOR EDUCATIONAL PURPOSES ONLY.
NONE OF THE INFORMATION PROVIDED BY KELWEL PRODUCTIONS INC. IN ANY FORM, I.E. ONLINE, PODCAST, VIDEOS, OR RECORDINGS OR ON WEBSITES CONTROLLED BY THIRD PARTIES IS INTENDED:
1. ASA MEDICAL DOCTOR'S ORDER OR ADVICE; OR
2. AS AN ENDORSEMENT, RECOMMENDATION OR SPONSORSHIP OF ANY COMPANY, PRODUCT, OR PUBLICATION.
THE EDUCATION AND INFORMATION PRESENTED IS INTENDED FOR A GENERAL AUDIENCE AND SHOULD NOT BE CONSTRUED ASSPECIFIC ADVICE TAILORED TO ANY PARTICULAR INDIVIDUAL OR DISEASE PROCESS.
KELWEL PRODUCTIONS INC MAY POSSIBLY DERIVE FEES OR OTHER COMPENSATION AS A RESULT OF PURCHASES MADE BY YOU ON ITS WEBSITES OR THROUGH ITS E MAIL OFFERS. KELWEL PRODUCTIONS INC WILL NOT BE LIABLE FOR ANY INCIDENTAL, DIRECT, INDIRECT, ACTUAL, CONSEQUENTIAL, OR OTHER DAMAGES, INCLUDING, BUT NOT LIMITED TO, PAIN AND SUFFERING, EMOTIONAL DISTRESS, HOSPITALIZATION OR DEATH.KELWEL PRODUCTIONS INC HOLDS NO COLLECTIVE LIABILITY TO ANY PARTY. UNDER NO CIRCUMSTANCES WILL KELWEL PRODUCTIONS INC BE LIABLE FOR ANY LOSS OR DAMAGE CAUSED BY YOUR RELIANCE ON THE INFORMATION CONTAINED HEREIN. IT IS YOUR RESPONSIBILITY TO EVALUATE THE ACCURACY, COMPLETENESS OR USEFULNESS OF ANY INFORMATION, OPINION, ADVICE OR OTHER CONTENT CONTAINED HEREIN. PLEASE SEEK THE ADVICE OF PROFESSIONALS, AS APPROPRIATE, REGARDING THE EVALUATION OF ANY SPECIFIC INFORMATION, OPINION, ADVICE OR OTHER CONTENT.
4001 Inglewood Avenue
Suite 101-235  Redondo Beach CA 90278
877-884-4587   Kelly@TheBreathingSpecialist.com
© Copdsuccess.com™ 2015 All Rights Reserved